When you have a child you say and do things that you never thought possible. These little creatures are into everything!! I am constantly telling Maddie "No, no, we don't lick the dog." or "Maddie, please don't put the cat fur in your mouth." And then there are the boogers you have to dig out, poopy foot prints you have to dodge and every random item you have to fish out of their mouths. Kids are kinda nasty!!! Today I had to dig scrambled eggs out of Maddie's hoonie. And her bum crack. I am sure you are now wondering how this happened, so let me enlighten you.
I was getting ready to feed her scrambled eggs and because she is the messiest eater I stripped her down to her diaper. Of course it was then that I noticed poo coming out the diaper and had to go and change her. She currently has a yeast infection from her antibiotics so I had the bright idea of allowing her to eat naked. I laid a towel down on her high chair and let her go to town. What I did not consider was the fact that the eggs would fall in her lap. And her lap was, well, naked. So the eggs found there way into every crack and crevice. Pun intended! So when we were finished I had to dig eggs out of places that I never thought that I would ever see eggs. Or any food for that matter. Good times! Good time!
While she was eating I was able to get a few cute photos. She sure does love to eat eggs!!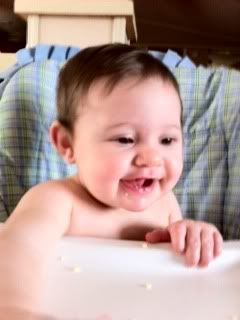 This one I absolutely love: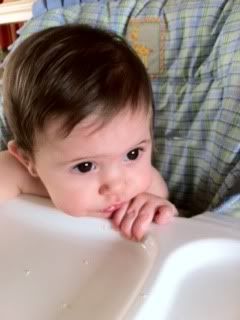 I then edited it a bit with an app on my phone: