I received an email from the embryologist with pics of my embies. I completely forgot to post them here. So here ya go, my babies to be! This first one is the "perfect" one that survived the original thaw. If you look you can see the darker blob on the bottom left. That is where the fetus will develop. And then all of the clumpy cells ringing the circle of the embryo is where the placenta will develop. Pretty interesting!!
This second one is the third one thawed. It had only been thawing a few hours so it does not look as good as the first, but they were confident it would be almost as healthy as the first one.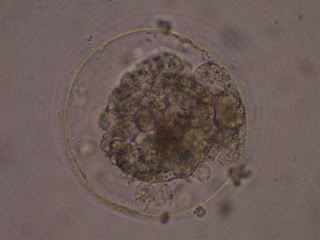 So there are my babies. Hopefully in 9 months I will be posting new pics!